Are you looking to elevate your home décor with curtains that combine style and functionality seamlessly? The Glavin Collection of Dimout Curtains might be just what you need. In this blog post, we introduce you to this collection, highlighting its design features, advantages, and how it can transform your living spaces into havens of modern Scandinavian elegance.
Embrace Elegance and Functionality
The Glavin Collection is designed to strike the perfect balance between elegance and functionality. It offers two distinct linen texture designs: Adina and Cody. These curtains are more than just window coverings; they are a reflection of your modern aesthetic.
Adina Design: Natural Linen Texture
Adina captures the authentic beauty of natural linen textures. With its subtle yet alluring two-tone color palette, these curtains evoke the tranquil charm of Scandinavian interiors. Adina's timeless design is a perfect addition to any modern living space, adding an element of sophistication and serenity.
Cody Design: Contemporary Linen Texture.
For those seeking a more contemporary approach to linen textures, the Cody design is a perfect choice. Horizontal lines in soft, natural colors create a captivating interplay that exudes modern sophistication. These curtains seamlessly blend with Scandinavian design principles, infusing your space with understated elegance.
Advantages of the Glavin Collection
Now that you've been introduced to the design features of the Glavin Collection, let's explore the advantages that make these curtains a must-have for your home.
Wide Width and Heavy GSM
The Glavin Collection features curtains with wide widths and a heavy GSM (grams per square meter) fabric. This combination ensures superior coverage and light control. The curtains drape beautifully, adding a luxurious touch to your home. Whether your windows are narrow or expansive, these curtains have you covered.
Dimout Efficiency
Achieve the perfect balance between controlling light and maintaining privacy with Glavin Collection curtains. They offer superior dimout functionality, allowing you to create a cozy and intimate atmosphere while protecting your personal space. Say goodbye to harsh sunlight or prying eyes, and welcome a serene ambiance into your home.
Modern Scandinavian Embrace
The Glavin Collection encapsulates the essence of modern Scandinavian home design. The natural linen texture colors of Adina and Cody complement minimalist decor, infusing your space with a sense of tranquility and elegance. These curtains are not just window coverings; they are an expression of your refined taste.
Transform Your Living Spaces with Glavin Dimout Curtains
Say goodbye to ordinary curtains and elevate your interior design with the Glavin Collection. These curtains are more than just window treatments; they are a statement of your style and a testament to the perfect blend of elegance and functionality. Immerse yourself in the world of Scandinavian elegance with the Glavin Collection and redefine the way you experience your living spaces.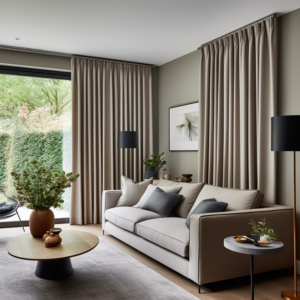 To learn more about Glavin fabrics, please visit the provided link for detailed information.
Explore Glavin Dimout Collection
We offer a wide selection and are ready to assist with any inquiries you may have. Thank you for considering our fabrics.