In the world of interior design, achieving the perfect balance between functionality and style is often the key to creating a space that truly feels like home. At Jotex Fabrics, we understand this fundamental principle, and that's precisely why we're thrilled to introduce our latest masterpiece: the Amaya Blackout Curtain Collection. With the Amaya collection, we've merged form and function, creating a line of curtains that not only enhances the elegance of your living space but also ensures a peaceful and comfortable environment.
Creating Serene Spaces with Jotex Amaya Blackout Curtains
100% Sunlight Blockage for Restful Sleep
One of the standout features of the Amaya collection is its ability to block out 100% of sunlight. This remarkable characteristic means you can finally bid farewell to the harsh glares and unwelcome morning sunshine that can disrupt your sleep or your well-deserved weekend movie marathon. The Amaya curtains are designed to eliminate every intrusive ray, ensuring you enjoy the perfect darkness you need to rest and recharge.
Style and Elegance for Your Interior
Curtains are not merely utilitarian; they are an essential aspect of your interior's aesthetics. That's why we've crafted the Amaya curtains with an intricate focus on style and elegance. Our collection boasts an exquisite range of colors and patterns, each carefully curated to complement a wide range of decor styles. Whether your space is characterized by classic elegance, modern minimalism, or something in between, the Amaya collection offers the perfect addition to elevate your interior.
Energy Efficiency for Your Comfort and Savings
The benefits of the Amaya Blackout Curtains extend beyond aesthetics and sleep quality. These curtains also bring a significant advantage to your wallet. The secret lies in their energy efficiency. By providing exceptional insulation, the Amaya curtains help maintain a comfortable room temperature. They keep the heat in during winter and block out the scorching sun in summer, reducing your energy costs and creating a more sustainable home environment.
Conclusion
The Amaya Blackout Curtain Collection is more than just a range of window coverings; it's a testament to the fusion of fashion and function in interior design. With 100% sunlight blockage, style and elegance, and energy-efficient properties, the Amaya curtains are a remarkable addition to any home. They create a tranquil and inviting atmosphere where you can escape the outside world and find true comfort. Whether you're aiming to refresh your living room, transform your bedroom into a cozy sanctuary, or make your home more energy-efficient, the Amaya collection is your answer.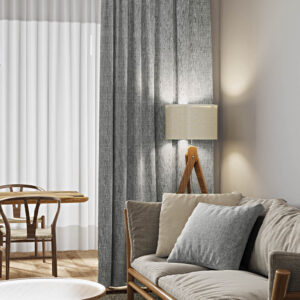 To learn more about Amaya blackout fabrics, please visit the provided link for detailed information.
Explore Amaya Blackout Collection
We offer a wide selection and are ready to assist with any inquiries you may have. Thank you for considering our fabrics.