When you think about curtains, what comes to mind? Privacy? Light control? Perhaps a touch of style? How about all of the above, with an added dose of elegance and texture? That's precisely what you can expect from Tekusu's Akari Blackout Collection, featuring the captivating Izumi and Inami designs. These curtains redefine the very concept of blackout curtains, elevating them from mere light-blockers to essential elements of your interior design.
Izumi: The Beauty of Linen Textures Meets Ultimate Blackout
Izumi, one of the standout performers in Tekusu's Akari Blackout Collection, brings together the beauty of linen textures and the ultimate in blackout performance. These curtains don't just block out light; they create an environment of unparalleled coziness and relaxation. When the sun is at its brightest or city lights are at their most glaring, Izumi stands as an impenetrable fortress of darkness. It allows you to transform your living spaces into serene havens of tranquility.
One of the remarkable features of Izumi is its tactile experience. The texture of these curtains is designed to mimic the gentle feel of linen. Run your fingers over the surface, and you'll instantly appreciate the luxurious sensation. This tactile element adds depth to your decor. Izumi doesn't just look beautiful; it feels beautiful too.
If your home's design philosophy leans towards modern wool Scandinavian influences, Izumi is a game-changer. Its natural colors and linen-like texture harmonize seamlessly with the cozy and functional elements of Scandinavian design. Whether you have a taste for minimalism, functionality, or a blend of both, Izumi's adaptability ensures it's a perfect fit for your space.
Inami: Adding Depth and Elegance to Your Space
Inami, another star in the Akari Blackout Collection, is all about adding depth and elegance to your living spaces. The small herringbone textures introduced by Inami bring character to your decor. When the light plays upon these subtle patterns, your room takes on a captivating atmosphere, with every shadow and highlight enhancing the overall ambiance.
Just like Izumi, Inami offers 100% blackout capabilities. It doesn't compromise when it comes to privacy and light control. Whether you desire complete darkness for restful sleep or a serene ambiance for relaxation, Inami delivers. What makes Inami truly exceptional is its versatility. It doesn't adhere to a specific design style; instead, it adapts effortlessly to modern living designs. Whether your decor follows a contemporary, classic, or eclectic theme, Inami finds its place seamlessly.
The Akari Blackout Curtains – A Game Changer
The Akari Blackout Curtains from Tekusu represent a significant transformation in the world of window coverings. These curtains aren't just a practical solution; they're a style statement. They effectively block out light, providing essential privacy and light control. Yet, they also introduce texture and depth to your living spaces, creating an ambiance that goes beyond functionality.
Your home is more than just a place to reside; it's your canvas for self-expression. It's where you entertain, relax, and create cherished memories. The Akari Blackout Curtains make a profound impact on this canvas. They help you set the tone for your decor, bringing a perfect blend of style and functionality to your windows.
Your home should be a sanctuary, a place where you can relax, entertain, and create beautiful memories. The Akari Blackout Curtains from Tekusu can help you achieve this. Whether you choose Izumi's linen-like textures and natural colors or Inami's subtle herringbone patterns, you're making a choice that transforms your living spaces.
With these curtains, it's no longer about just covering your windows; it's about elevating your decor and creating an ambiance that's uniquely yours. The perfect blend of style and functionality is within your reach with Tekusu's Akari Blackout Collection.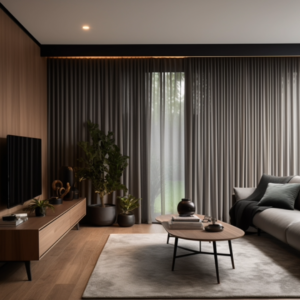 If you're ready to add elegance, style, and blackout perfection to your living spaces, explore the Akari Blackout Collection from https://jotex.co/collection/akari/. Your home is waiting to be transformed into a sanctuary of style and comfort.